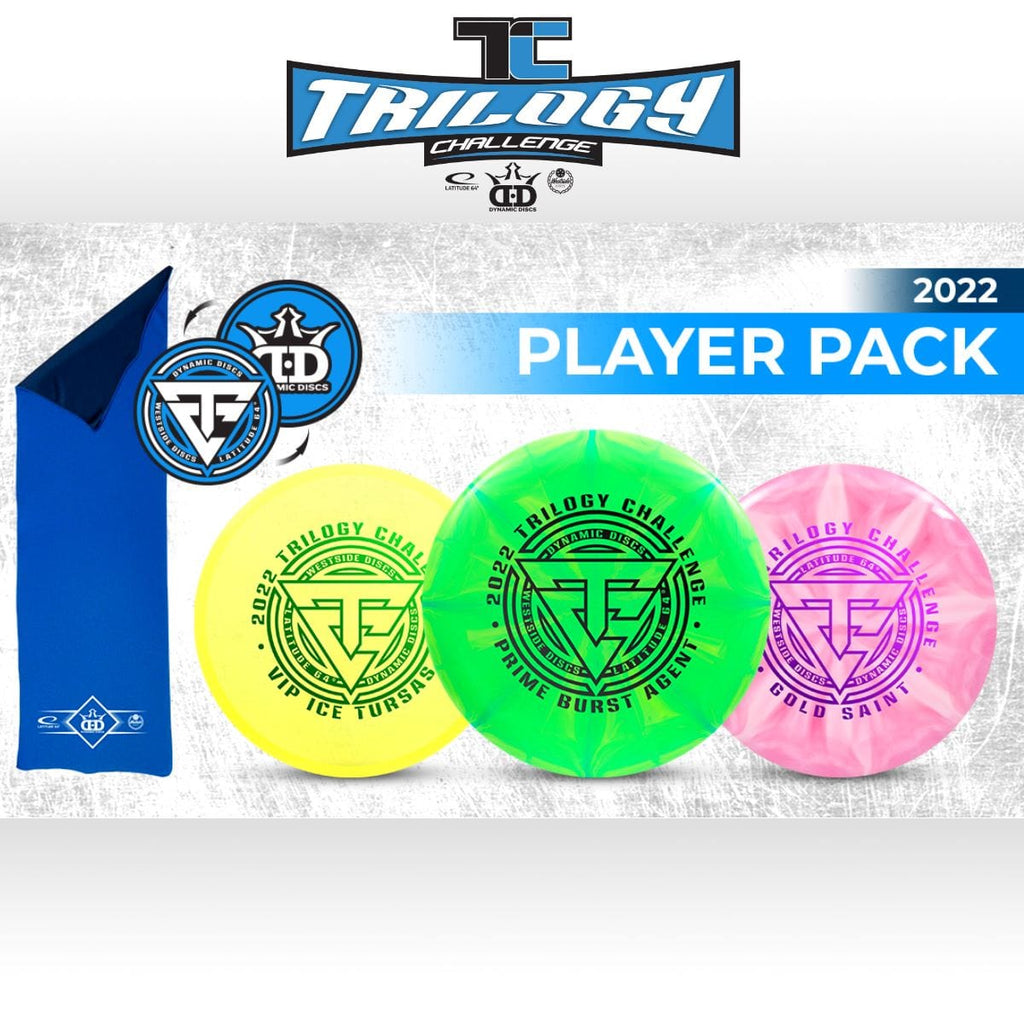 Roll over image to zoom in
Saint, Tursas, Agent, Towel & Mini
2022 Trilogy Challenge Player Pack
Recommended for
Beginner
Intermediate
Description
Colour and weights may vary.
These player packs for the 2022 Trilogy Challenge (www.trilogychallenge.com) are being sold outside of any official 2022 Trilogy Challenge event and can be used as a great value for money starter set.
What's Included:
3 x Beginner-Friendly Discs

1 x Latitude 64 Gold Saint (Driver)
1 x Westside Discs VIP Ice Tursas (Midrange)
1 x Dynamic Discs Prime Burst Agent (Putter)

1 x 2022 Trilogy Challenge Towel

1 x 2022 Trilogy Challenge Flexible Rubber Mini
About the Latitude 64 Gold Saint:
Speed 9 / Glide 7 / Turn -1 / Fade 2
The Saint is a highly praised control driver – both among amateurs and pros. When you need a disc with good distance and perfect accuracy the Saint will deliver. Saint will be a straight shooter for drives up to 350 ft and has excellent glide. Saint also has a big brother – the slightly more stable Saint Pro.
Comes in weights between 173-176g

About the VIP Ice Tursas:
Speed 5 / Glide 5 / Turn -2 / Fade 1
The Tursas is Westside's most controllable midrange disc. Designed with the everyday player in mind, the Tursas will make playing disc golf more fun. It should allow you to make a midrange anhyzer while you are learning to play. Great for ladies and kids as it has a shallower grip than most mid ranges available on the market. For professional players, it makes a great anhyzer midrange. For lower speed arms, it will glide straight for as long as it is in the air.

Comes in weights between 173-176g
About the Prime Burst Agent:
Speed 2 / Glide 3 / Turn 0 / Fade 1
The Agent specializes in consistent flights and accurate putts. Your competition will be in danger when the Agent appears on the course. With a beadless profile and slightly overstable flight, it's no secret you can depend on the Agent to perform.

Comes in weights between 173-176g
Flight Simulator
Power/Arm Speed

(airspeed required by disc)
%
Compare to