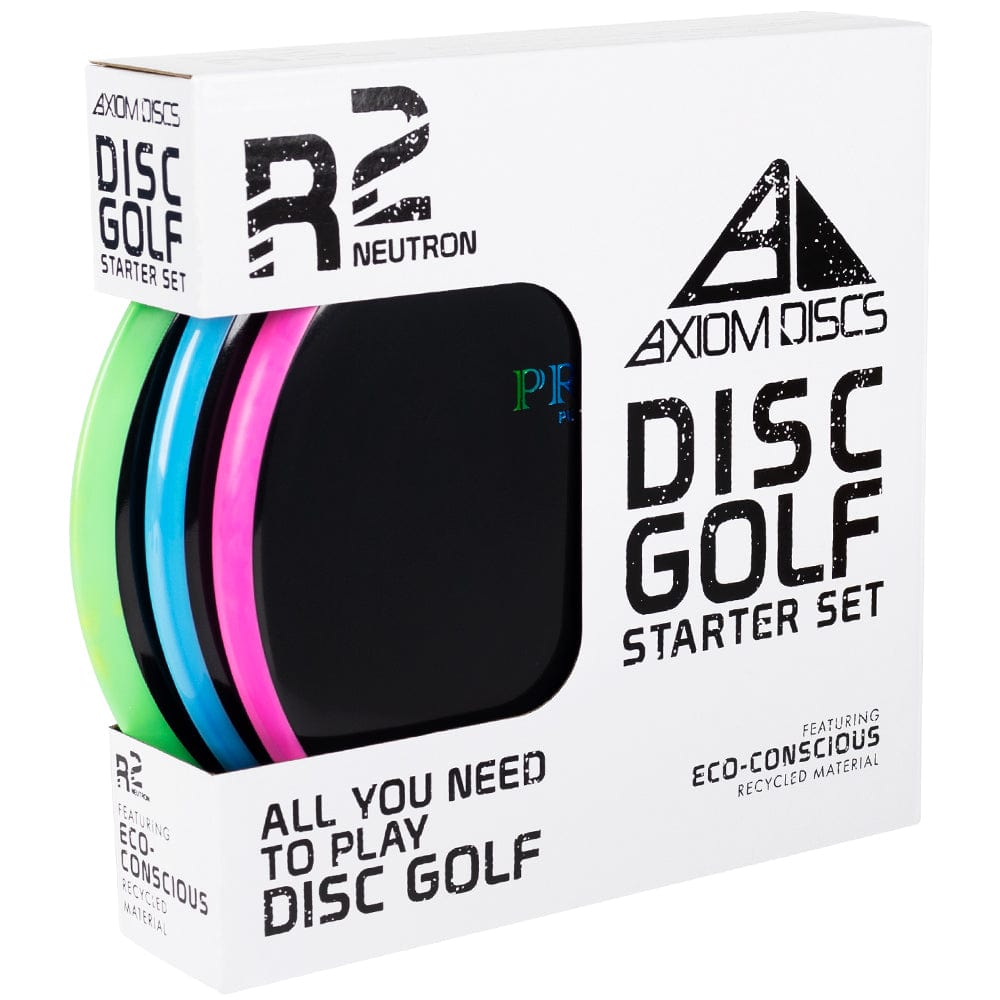 Roll over image to zoom in
Axiom R2 Neutron Box Set
Disc Golf Starter Set
Recommended for
Beginner
Intermediate
Description
For the first time, our R2 Neutron environmentally conscious plastic is available for the Axiom brand! That's right - everything that you love about the R2 project, but with a dazzling dose of color! Each Axiom disc in the set will have the distinctive R2 black core, but now with color overmolds and a truly beautiful rainbow foil for the stamp. The Axiom R2 Starter Sets include an Insanity, a Paradox, a Proxy - a perfect combination of starter discs! Pick one up for yourself or one for your friend who is looking to get into disc golf or GYRO - these starter sets make great gifts!
Molds included in the Axiom R2 Neutron Box Set:
Axiom Proxy (R2 Neutron):  Speed 3 / Glide 3 / Turn -1 / Fade 0.5 | The Proxy is a straight-stable putt and approach disc. The Proxy shares the Envy mold's core, lending the same low-profile feel and solid grip, along with a short wing width and wide flight plate diameter for superior glide. The Proxy sets itself apart from the Envy with a remarkably straight forward-fading finish. A bit of high-speed turn potential allows the Proxy's lines to be manipulated over a broad range of power and helps less powerful throwers achieve straight putter drives. The Proxy's defining flight characteristic is its ability to hold a straight flight at high speeds, but demonstrate the low-speed straight properties of a much more understable model's ending stage. The Proxy is designed to exhibit the neutral straight-flying characteristic of classic "main" putters. Rather than requiring an extra wind-resistant overstable complement solely for harder throws, the Proxy is able to lock in with a similar high-speed stability as the Envy. Its neutral stability at a wide range of speeds will help the Proxy find its way into every Axiom thrower's bag.
Axiom Paradox (R2 Neutron):  Speed 5 / Glide 4 / Turn -4 / Fade 0 | Among the most understable midranges ever produced, the Paradox is capable of some truly unique lines. High-power players will be using the Paradox for utility shots like rollers, low speed flip ups, massive nose up anhyzers, and other touch shots. Low-power players will find the Paradox is a great first midrange for straight or hyzer-flip flights. Whether you're using it as a teaching tool, or a utility disc for woods golf, the Paradox's understability won't let you down. If you need it to turn, the Paradox is the disc for you!
Axiom Insanity (R2 Neutron):  Speed 9 / Glide 5 / Turn -2 / Fade 1.5 | The Insanity is a stable-understable distance driver. The Insanity is best described as a worn-in MVP Inertia, with slightly more high-speed turn and a diminished fade. For average power throwers, the Insanity will be remarkably straight, while high power throwers can execute precise flip and turnover lines with ease. Whether you're looking for that sweet-spot worn disc flight, or you're looking to achieve bigger Inertia lines with less power, give Insanity a shot. The defining characteristic of the Insanity's flight is its slow turn and straight fade, crafted by design with softened shapes to mimic a worn Inertia. Thusly the Insanity needs less power to execute certain Inertia flights and will exhibit a bit more turn and a noticeably more neutral fade portion than the Inertia. High power throwers will see enhanced glide and forward carry at low speeds, making it useful for a variety of low-ceiling shots and higher tailwind-riding lines. Average power throwers will see the most advantage with low height drives that gain distance and have enough stability to easily range. The Insanity is most suited to backhand drives, and either highly skilled forehands, or beginner-power forehands. Its high-speed turn excels for hyzer-flip drives, turnovers, and smooth-power flat ,, as well as a variety of utility and tailwind shots.
All sets come in a variety of colours with weights between 167-175g.
Flight Simulator
Power/Arm Speed

(airspeed required by disc)
%
Compare to