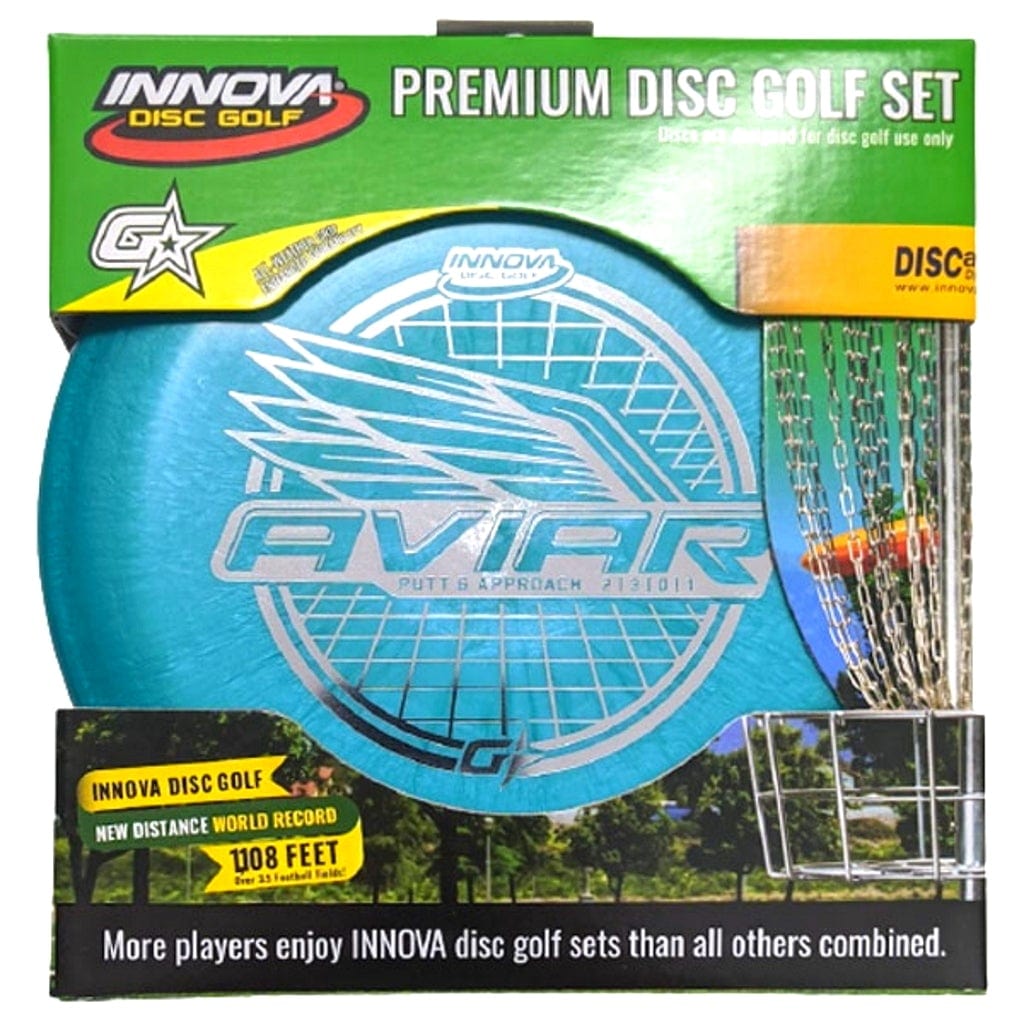 Roll over image to zoom in
Innova Premium Disc Golf Starter Set
Disc Golf Starter Set
Description
This starter set includes a box. Colour and weights may vary.
Premium Beginner's Set - This set offers beginners a mix of shot choices in lighter weights, and all in Innova's GStar Plastic. Colors and stamps will vary, easy to throw weights will be between 150-169g.
GStar Plastic - Innova GStar is a blended plastic with maximum flexibility, grip and good looks. GStar is opaque and features a pearlescent sheen - they fly even better than they look. GStar discs have great glide and a smooth flight. Flexible even in very cold weather, GStar is ideal for winter rounds. Go ahead, grip it and rip it!
Classic Innova Discs - A line up featuring some of Innova's most popular discs in premium GStar plastic:
Aviar (Putter) - Speed 2 / Glide 3 / Turn 0 / Fade 1 | The Aviar Putt & Approach is Innova's most popular disc model and the number one putter in disc golf. It is versatile and is dependable in all conditions. A must have disc for any serious competitor's bag. This is the beadless model that provides an excellent grip. It is a straight flier with a predictable finish.
Leopard3 (Fairway Driver)

 - Speed 7 / Glide 5 / Turn -2 / Fade 1 | The Leopard3 has a nice controllable turn right out of the box. It can be thrown smooth for straighter shots, or harder for more turn. Adjusting the angle of release allows the Leopard3 to be an incredibly versatile fairway driver.

Valkyrie (Distance Driver)

 - Speed 9 / Glide 4 / Turn -2 / Fade 2 | In lighter weights gives new players extra distance. Lighter weights also give players extreme range when thrown downwind, while maximum weights can give excellent upwind distance. The Valkyrie's high speed turn and flight characteristics make it a great choice for long range turnover shots and rollers.
Flight Simulator
Power/Arm Speed

(airspeed required by disc)
%
Compare to