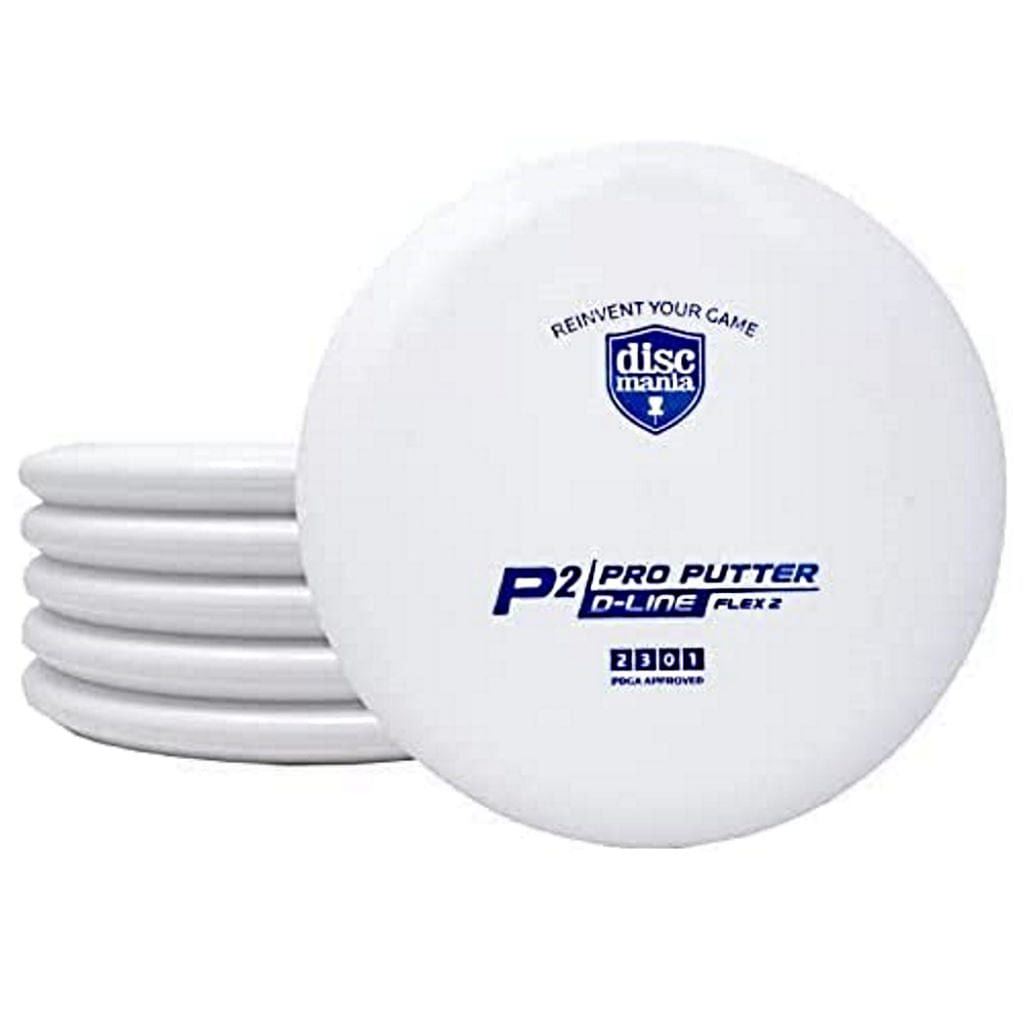 Roll over image to zoom in
P2
D-Line Flex 2 - 5-Putter Pack
Clearance
Description
Recommended for
Beginner
Intermediate
Advanced
Speed 2, Glide 3, Turn 0, Fade 1 | "Drive for show, putt for dough." This old adage holds true for the P2. We dare to claim that the P2 has made the most dollars in prize money total. The top Discmania pros including Simon Lizotte, Eagle McMahon and Leo Piironen rely on the P2 for the most important throw in the game. The P2 keeps popping up at the top of most sold charts, especially in putters, but also in all disc types combined.
The P2 is very stable in high speeds, making it an ideal driving putter, even through winds. One benefit of the P2 is also that is has been produced each of the plastic types Discmania Originals discs have ever been produced in, so you can be sure to find your favorite.
Find out why the P2 is one of our most popular molds by trying it out yourself!
Good for:  Putting, approaches, drives, for all skill levels.
2021 D-Line, Flex 2:  At Discmania, we want to create the most attractive products in disc golf — both to your eyes and to your scorecard.
This is our icon - the P2 - reinvented. For over a decade the P2 has been the gold standard of putters. We wanted to take that standard and take it to a level that is unmatched in disc golf.
The New P2 has the same straight-to-stable flight you have known for years, but with two new features. We've developed a unique texture to give you the best grip available on any baseline plastic on any conditions. We know that every disc golfer prefers a different amount of flex in their putters. Some like their putter super soft while others want them rock hard. We've designed three different flexes to our New P2, all with the unique texture to give you the ultimate choice.
If you have liked P2 before, you are going to love these. Your next and last putter has arrived and it's the New P2.
Simon Lizotte:  "The P2 has been with me for eight years now. No matter what plastic. No matter for drives, upshots or putts. I put all my trust into these and they give me the confidence I need on the putting green."

Eagle McMahon:  "I love the P2 because I can depend on it. It's also a very tried and true putter that delivers results."
Oskari Vikström:  "The P2 is my choice because it gives a good combination of glide and stability, which allows me to throw it off the tee with confidence.
Flight Simulator
Power/Arm Speed

(airspeed required by disc)
%
Compare to